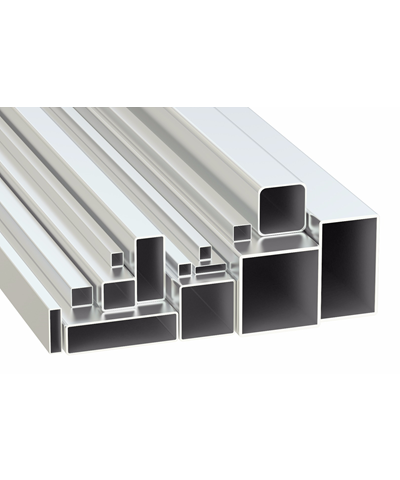 EN AW-6060
15 x 50 x 2 mm
Corrosion resistance
Good
We stock a wide range of square tubes, almost entirely in the standard alloys 6060 and 6082, but if you request other dimensions than the once introduced - you are welcome to contact us.
EN AW-6060
Is suitable for anodizing, and has a high corrosion resistance and good for anodizing. The alloy is suitable for welding.
We are not liable for items out of stock. The specified weight is theoretical. Please contact us if you have any further enquiries.
Alloys
Density
Si
Fe
Cu
Mn
Mg
Cr
Zn
Ti
Other
Name
g/cm3
Min
Max
Min
Max
Max
Max
Min
Max
Max
Max
Max
Max
EN AW-6060
2.7
Al
0.3
0.6
0.1
0.3
0.1
0.1
0.35
0.6
0.05
0.15
0.1
0.15
Aluminium Properties
Thermal conductivity
Coefficient of thermal expansion
Melting point
Elastic modulus
Electrical conductivity
Alloy
Temper
W/m*K
µm/(m*K)
min °C
KN/mm2
%IACS
EN AW-6060
O
23.4
610
655
69
EN AW-6060
T1
195
23.4
610
655
69
49.5
EN AW-6060
T4
187
23.4
610
655
69
48
EN AW-6060
T5
209
23.4
610
655
69
54
EN AW-6060
T6
209
23.4
610
655
69
54
Mechanical properties
Dimension
Tensile strength (Rm) MPa
Proof stress (Rp0,2)
Elongation
Brinell Hardness
Elongation A50mm
Norm
Alloy
Temper
Min
Max
Rm N/mm2
MPa
% min
HBS
% min
EN 755-2:2013
EN AW-6060
T6
-
5
190
150
8
70
6
EN 755-2:2013
EN AW-6060
T6
-
15
190
150
8
70
6
EN 755-2:2013
EN AW-6060
T6
5
25
170
140
8
70
6
EN 755-2:2013
EN AW-6060
T66
-
15
215
160
8
75
6
EN 755-2:2013
EN AW-6060
T66
-
5
215
160
8
75
6
EN 755-2:2013
EN AW-6060
T66
5
25
195
150
8
75
6